Event Saturday
This Saturday morning – April 29 – Brewbaker Intermediate, Catoma Elementary, T .S. Morris Elementary, and Morningview Elementary are teaming up to host STEMtastic Saturday, from 9:00 am until 12:00 noon at Carver High School.
Elementary students from around the area are invited to come find out more about how math and science are used to make our lives better.
This event is in conjunction with Discovery Education a division of the Discovery Channel. There will be Exploration Stations and Prizes. Please plan to attend with your children and find out how much fun math and science can really be!
Magnet Letters
Notification letters and emails will be sent to parents that applied for magnet programs on May 9.
Student Transfer Form
If you recieved a letter from MPS concerning Student Transfer Forms, you can click here to download the form. If you have questions about the form, please call 334-230-0657. Completed forms must be submitted by May 2, 2017 for the 2017-2018 school year.

2017 Proposed Budget
Click Here and choose the System Budgets folder to view the 2017 proposed budget and supporting documents. You will need Adobe PDF Reader to view the documents. It is a free download at www.adobe.com.

MPS has three of the top five schools in Alabama
U.S. News and World Report has released its annual list of the nation's best high schools, and three Montgomery Public Schools are in the top five. Loveless Academic Magnet Program High is again ranked as the best high school in the state, with Booker T. Washington Magnet High at No. 3 and Brewbaker Technology Magnet High at No. 5. LAMP also is ranked as the 14th best magnet high school in the United States and the 57th best high school in the nation. BTW's national ranking is 87th among magnets and 551 overall, while Brew Tech comes in at 113th among magnets and 759 overall. LAMP was one of one just two schools in the state to earn a gold medal. Some of the impressive numbers the report lists for LAMP include 98 percent English proficiency, 93 percent mathematics proficiency and a 90.6 College Readiness Index. All three of the schools have a 100 percent graduation rate.
Parent Tip of the Day
One more review at bedtime can help memory

The night before your child has a big test, have him finish his preparations by reviewing the most important information one more time right before going to bed. He shouldn't spend long; 10 or 12 minutes should be enough. While he sleeps, his brain will keep thinking about what he's just reviewed. The next day, he'll find it easier to remember for the test.

http://niswc.com/13dbC322292
Floyd Middle band student wins scholarship for essay
Congratulations to Isabella Woodham, a seventh-grade student at Floyd Middle Magnet School, who won a $1,000 scholarship from a national publication for an essay on Floyd's music program. School Band and Orchestra Magazine awards 10 of the scholarships to students each year. Her essay will be printed in an upcoming issue of the magazine along with a photo of her and band director, Coleman Woodson, in front of the school sign marquee. The title of the essay is "A Note to My Parents, I Love My School Music Program Because … ." Floyd band students enter the essay contest each year as part of their course work. Miss Woodham is the fourth student to win a scholarship in Woodson's time at the school.
Board Elects New Leaders
The Montgomery County Board of Education has elected two new officers to lead the board. District Six representative Mr. Robert Porterfield, who had served as vice president, was named the board president and Dr. Lesa Keith (district 1 representative) was named vice-president.
Mr. Porterfield is in his second term as a member of the board. He served the students of MPS for more than three decades as a math and science teacher. Dr. Keith was elected to the board in 2014 after a long career as a teacher in the Montgomery School System. She is also a local real estate agent.
You can learn more about Mr. Porterfield and Dr. Keith by clicking on the School Board item in the menu to the left.
Board Approves 2017-2018 Calendar
The Montgomery County Board of Education has approved the 2017-2018 Calendar. You can view the calendar by clicking here.
Magnet Schools of America shares Bear's "Success Story"
Bear Exploration Center is featured this month in the national Magnet Schools of America Newsletter! The article outlines the school's focus on math, science and technology, the dedication of the principals and staff and its designation as a Blue Ribbon School.
You can read the article here: http://www.magnet.edu/news-and-action/success-stories/Learning-as-Exploration
National award honors Floyd Middle for parent-school cooperation
The National PTA has named Floyd Middle Magnet a School of Excellence. It is the only middle school in Alabama to receive that distinction.
TWO MPS SCHOOLS NAMED AMONG THE BEST IN THE NATION
U.S. Secretary of Education, John B. King, Jr., announced today that Forest Avenue Academic Magnet and Loveless Academic Magnet Program (LAMP) have been named 2016 National Blue Ribbon Schools. The schools are among 279 public and 50 private schools receiving this honor. This is the second Blue Ribbon Awarded to Forest Avenue.
Schools are nominated for the award by the state department of education, and then complete a comprehensive application about school practices. Schools may apply for status as Exemplary High Performing—among the top schools in a state—or Exemplary Achievement Gap Closing—schools making the fastest progress in the their state in closing achievement gaps among student subgroups.
Two representatives from each school will attend a two-day awards ceremony in Washington, D.C., to celebrate their hard-won achievements.
Forest Avenue was also named a Blue Ribbon School in 2007. Last year Bear Exploration Center received the award. Other MPS Blue Ribbon schools include T. S. Morris Elementary School and Brewbaker Technology Magnet High School.
For more information on the MPS schools, or to schedule a visit to either school to talk with staff and students, please contact Tom Salter @ 334-239-1820. For more information about the National Blue Ribbon Schools program, please visit http://nationalblueribbonschools.ed.gov/
Praise for the first day at Davis
One parent was truly impressed by the first day at Davis Elementary, which featured Faulkner University students cheering on the Davis students as they entered. Listen to her voicemail to Montgomery Public Schools HERE.
Welcome back!
Superintendent Margaret Allen's back-to-school message for parents and students:
Parents and Students,
Welcome back! We are so excited to begin the new school year and to have you as part of the MPS family. It is our mission to engage, educate and inspire our students to succeed in college, career and beyond, and we look forward to partnering with you to achieve it. We desire to have a great relationship with your family that opens the door for communication about successes and concerns; together we can solve and resolve any issues that interfere with student learning success.
Administrators and teachers have prepared classrooms, learning environments, lesson plans and strategies to enhance learning opportunities. When our students commit to work hard and do their part in school, they reap big dividends for the future. A good start to the year, which includes daily attendance, being on time, and completing homework assignments can offer countless benefits for the rest of the year. Parents, please know that you play a critical role as partners in supporting both your students at home and our work in the schools. We hope that you will join us by meeting your administrators and teachers in your school's open house, and joining the PTA/PTO.
MPS is a wonderful learning community. I feel so privileged to be a part of it. This is a very special place, and my colleagues and I appreciate the trust that you've shown in us by sending your children here every day. We will do our best to ensure they have a fulfilling, happy and safe year.
Can't wait to see you!!
Sincerely,
Margaret Allen
Superintendent
2016-17 Back to School Community Report
Click HERE to download the new 2016-2017 Back to School Community Report .
2016-2017 Calendar
You can review the new 2016-2017 school calendar with details for each month by clicking here.

Latest round of National Merit semifinalists includes 12 from LAMP
The National Merit Scholarship Corporation has announced its latest round of semifinalists, and 12 of the recipients are Loveless Academic Magnet Program students. Junghoun Bae, Joshua S. Breckenridge, Marlee A. Bryant, Seung Gyu Choi, Danica Justine B. de Jesus, John A. Frost, Teja Ginjupalli, Micheal T. Head, Jae Young Kang, Mary C. Norris, Tae Ho Koh and Hilina B. Woldemichael are among 16,000 students who were selected from a pool of 1.6 million juniors from more than 22,000 high schools who scored well on the Preliminary SAT (PSAT) and applied for the program.
Report: LAMP, BTW, BREWTECH are best schools in state
Montgomery Public Schools has the two best high schools in Alabama and three of the top 15 in the state, according to the 2016 U.S. News Best High Schools rankings. Loveless Academic Magnet Program was once again named the best high school in Alabama, and Booker T. Washington Magnet High School is ranked second. Brewbaker Technology Magnet High School was ranked at 15 on the state list. LAMP and BTW were the state's only high schools to be recognized as national Gold Medal Schools. Brew Tech was one of 27 high schools in Alabama awarded Silver Medal status.
LAMP has a national rank of 34, BTW is at 393 nationally, and Brew Tech has a rank of 1,530. The U.S. News rankings examined data from more than 21,000 public high schools across the country. The schools were ranked by state assessments, graduation rates and preparation for college.
You can find the U.S. News Best High Schools rankings for Alabama at The U.S. News website.
MPS makes mark in state ACT score comparison
Montgomery Public Schools has three of the top 25 high schools in the state when it comes to composite ACT scores, including the state's No. 1 school.
Loveless Academic Magnet Program is best in the state with a composite score of 28, two points higher than the number two school. Meanwhile, Booker T. Washington Magnet and Brewbaker Technology Magnet are tied for 11th in the state with a composite score of 22. The Public Affairs Research Council of Alabama compiled the list from the 2015 ACT test, and the news website al.com published the results.
BrewTech robotics teams go to world championship
BrewTech Robotics teams traveled to Louisville, Ky., to compete in the 2016 VEX World Competition. The 15 BrewTech students competed against students from 500 high schools from 37 countries and all 50 states, with more than 16,000 students in attendance. The team of Leo Hall and Dustin Smith was awarded the VEX Service Award for outstanding service to other teams in the engineering division. Of the more than one million students who participated in VEX Robotics competitions this season, only 500 made it to the World Championship.

Bear Exploration Center named National Blue Ribbon School
Bear Exploration Center is one of only 285 public schools in the nation to be named a 2015 Blue Ribbon School. Bear is one of five Alabama schools to receive the honor this year. It was designated an Exemplary High Performing School, which means it was one of the state's highest performing schools based on state and national assessments. The U.S. Department of Education chooses the Blue Ribbon Schools each year based on overall academic excellence or progress in closing achievement gaps.
| | | | |
| --- | --- | --- | --- |
| | | | |
| | | | MPS "Be There" Parental Involvement Campaign: There are lots of ways a parent can become more involved in their child's education. Click HERE for some suggestions. |
| | | | |
| | | | |
Montgomery Public Schools Backpack Food Partnership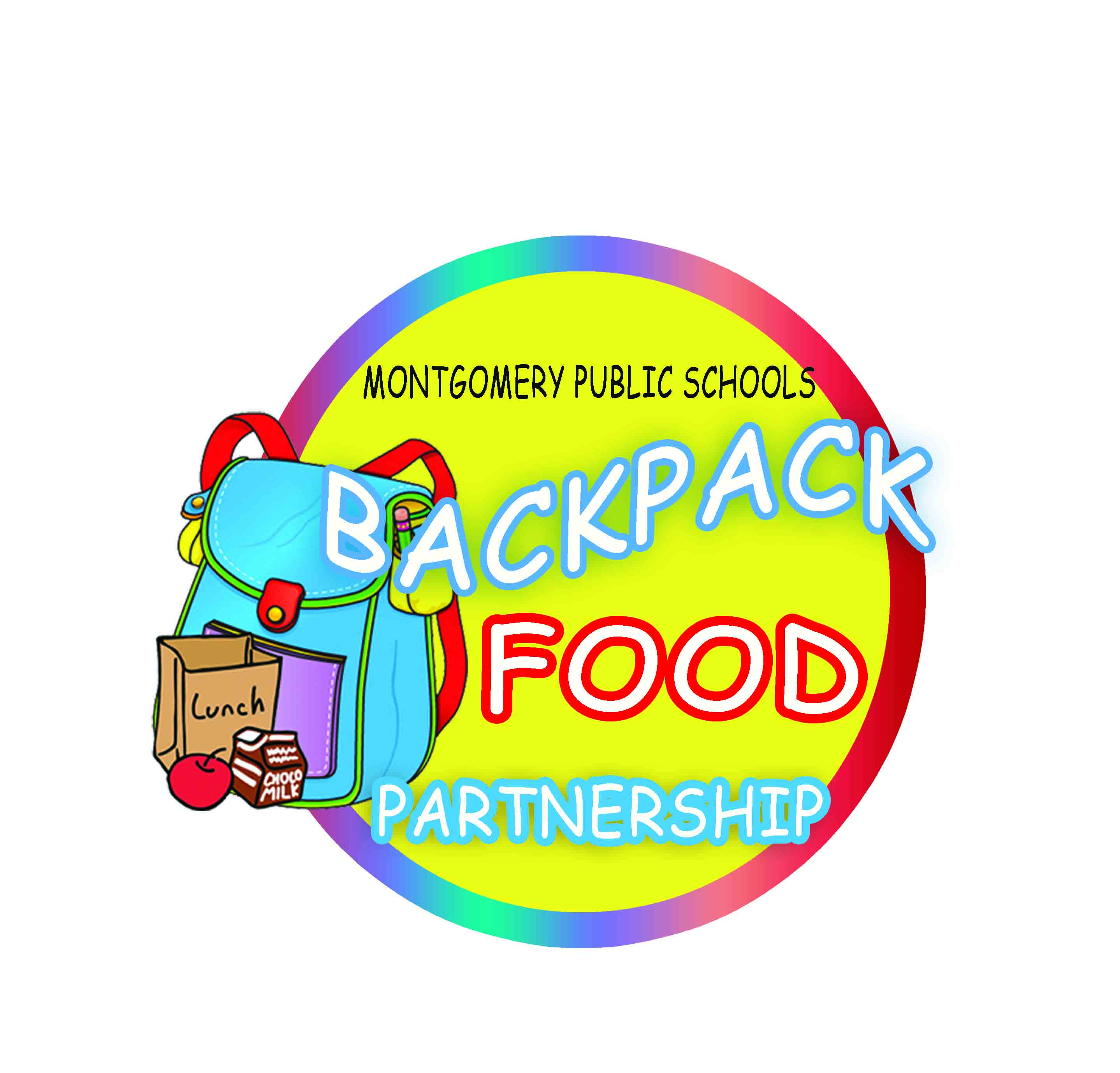 MPS is inviting those interested in helping students who have been identified to be at risk for food insufficiency through its Backpack Food Partnership. We know that many families take advantage of MPS' no cost breakfast and lunch programs, but it is also very likely that some children go hungry over the weekend and during extended school breaks because there is little to eat at home. For more information about becoming a partner or to learn how you can help, click HERE.
MPS Offers No Cost Breakfast and Lunch Meals for Students
Montgomery Public Schools' Child Nutrition Program is participating in the Community Eligibility Provision (CEP) of the Healthy, Hunger-Free Kids Act for the 2016-2017 school year, which means all MPS students can receive breakfast and lunch at no charge. One breakfast and one lunch meal will be served to all students at no charge regardless of the eligibility status. Additional student meals will be charged the normal price of $2.50 for student breakfast and $3.75 for elementary, middle and high school student lunch. A la carte item pricing can be found HERE. Faculty meals will remain $1.75 for breakfast and $3.50 for lunch. Adult visitor meals will remain $2.50 for breakfast and $4 for lunch.
Algebra Matters!
Algebra I is the first in a series of higher level mathematics courses. Studies have shown that students who take Algebra I, Geometry, Algebra II and one additional high-level mathematics course, are much more likely to do well in college mathematics. However, Algebra I is not just for the college-bound student! Research has identified that mathematics skills required to work as an electrician, plumber, or upholsterer were comparable to those needed to succeed in college.
Algebra I is, in short, the gateway to success! As a result, Montgomery Public Schools would like to share with you resources that your child will find beneficial for preparing him/her to be successful in Algebra I during the 2016- 2017 school year. The resources provided are engaging, interactive, student-centered and FREE!
Click Here for a quick pre-algebra refresher that will help you get ready for Algebra 1. You can even print the workbook or individual lessons.
Click here for more educational links including algebra.
Past school board meetings are now posted to our Youtube Channel. Click the Youtube icon on our homepage or subscribe to our channel at the link below.
https://www.youtube.com/channel/UCSoEdJw-pBM9-PRlVTCv-Kw/feed?view_as=public
Follow MPS Athletics on Twitter!
Get updates and great info @MPSAthletics!
Help Our Schools!
Join with your friends, members of your civic group, or those you worship with to help our schools! There are dozen of projects at schools throughout the county that can use your help. It is a great way to help our schools and bond with your friends and family. Click here to see the projects and to find out how you can get involved.
Sign Up for Email and Text Notifications!
If you wish to receive emails and text messages on the latest MPS news, click the Notify Me button at the bottom of the menu on the left side of this page. Just follow the instructions and be sure to check the Communication Sign up box. You will receive an email to confirm your address before you will begin to receive notifications. There is no charge for text messages by MPS, but unless you have unlimited texting on your cellular phone plan, your carrier's rules and rates will apply.
Please encourage others who have an interest in our schools to sign up.
STI Home
The INow Parent Portal (STI HOME) is available to any parent. This tool allows parents to view information on their child's progress, grades, attendance, etc.
To ensure the security of the information, parents must obtain a password from their child's school in person. A state-issued photo ID will be necessary to receive a user name and password.
ONCE YOU HAVE YOUR NEW USER NAME AND PASSWORD ACCESS IT THROUGH THE "FOR PARENTS" BUTTON ABOVE, CHOOSE "STI HOME", THEN THE WORDS "CLICK HERE".
Take a look at your child's homework

Experts say that reviewing your child's homework is important no matter what grade he's in. Set aside time each day to look at your child's homework, even if you aren't there when he does it. Ask him to tell you about it. Was it easy? Challenging? What can he tell you about the subject? Compliment homework that is complete and neat. If it isn't, ask your child to give it a little more effort.

http://niswc.com/12kdC322292